Please read about our 2006 adventures below.

The start in Philadelphia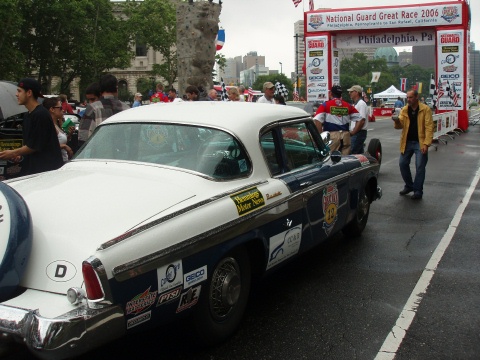 Good evening from York, PA our first overnight stop on the 2006 Great Race.


After an uneventful Trophy Run (practice) we definitely had a very eventful first stage. Not only did we have a rather wet send off from the Ben Franklin Parkway in downtown Philadelphia, but we also had our first real taste of rallying. It can be simply described as, too many U-turns. During rally school and many times more the veterans repeated the top 3 priorities, 1. stay on course, 2. stay on course and 3. stay on course. I guess that does not count missing the turn off for the start.

We were 1 min 15 seconds late for the start which is equivalent to an eternity. So drive fast, find the next racer (starting in 1 minute intervals) and slot yourself back into the proper time slot - real fun. This worked really well, until we missed the next turn. We got the error really fast and made the next U-turn, only to have a couple other veteran racers right in our rear view mirror. I guess we were not the only missing that turn.

Otherwise it was uneventful, if not challenging.
Aside from these minor errors, we had a great score. It's like Golf, I shot a par 72 round if it would not have been for those 2 holes with an 8 each.
Greetings from muggy Pennsylvania
Uli


Day 2


Finally the clouds seem to have moved on, and it is a nice evening in Washington, PA.
Oh boy was it wet today. But we should not complain sitting inside the Studebaker was actually pretty comfortable aside from the noisy wind shield wiper. Just think of all the open cars participating in the event (around 50 cars) while we endured about 6 hours of torrential rain.

Still a couple of U-turns, but we were have become experts in "hacking" of other expert racers. The term "hacking" refers to getting a reference point of another racer 1 minute ahead or 1 minute behind. We perfected it with a perfect score hacking of a car 4 minutes behind. If you can't manage to stay on course you better know how to hack.

Overall we had a nice day. It is always great to come into small towns and be greeted so warmly by the local folks, rain or shine.
Our score was a very respectable 31 seconds.

Hoping for some dry weather
Uli


Day 3


We made it to Ohio, good evening (the old bridge across the Ohio River in Wheeling, WV).



A very strenuous day, but we corrected our U-turn problem. We just created a new letter turn. We could not agree on what we would call it. I'd say it is a "K-turn", i.e. pull into a side road, realize it is the wrong one, pull back and continue on straight.

All in all a very successful day without any major problems, just a few minor errors that can add up very quickly to 1 minute 10 seconds. Not sure how good this score is, but yesterday the 31 seconds made 20th. The course is set up much tougher than last year and many folks count in multiple minutes assuming they actually make it through the course.

A fellow competitor had a funny story. They missed a turn and were off course by some 18 minutes. Given that the winners scored 14 seconds you can imagine this was a major issue. The car these folks were driving is a Buick Indy car racer. So after realizing the error they set out to catch up. And they made it to just a 37 second error, i.e. catching up 17 1/2 minutes. That's driving 40 - 60 mph where other cars in the race drive just 20. The navigator asked whether she is fired because of the error. The driver said, "are you kidding, I could finally drive this car as it was meant to be driven, FAST." So the navigators job is safe for the time being.

And would you believe it, the Studebaker can make turns at 20, although the rear seems to be turning a bit faster than the front. Since David labored so much over the Studebaker to get it ready, we are now laboring in the Studebaker figuring out new ways to drive a classic car.


Lastly, it was mostly dry with just a few drops, not counting the 95% humidity.
Until tomorrow
Uli


Day 4


The corn fields are here, and with them plenty of small farm roads that can be used for rallying.
Good evening.

And with these nice farm roads the driver has started to become so familiar with the car so that the navigator has to adjust what he is doing. In other words I am late to the game again. Annegret has improved her driving (rally driving) so much that I do not need to correct as much. But no one told me. Here you see what I am going through every day navigation notes.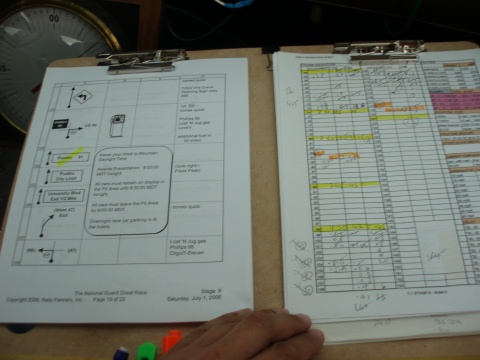 We had a great day, stayed dry during a heavy storm and arrived happy in Indianapolis.
I am afraid that there will be more corn fields in Illinois and Missouri for us to practice. I hope we have ironed out our navigational errors so that we can have a really good score, not only 4 out of 5 legs. The rally is much tougher this year. But that's no excuse.

Thanks to Dave the car is running great. No U-turns, so the signs are set for great things to come.
Uli


Day 5

We made it to St. Louis in great spirits


No U-turns great; on course all the time great; late for every checkpoint - aggravating. So let's fix the navigation errors along the way.

One problem we continue to encounter is centered on our tires. These types of tires expand with centrifugal force, i.e. they become larger the faster the car goes. Since we calibrate our speedometer at 50 mph this becomes a problem if you have to go 20 mph for any extended periods. Not to bore you with all the details but about 50-70% of the 58 second error today can be explained by the tire expansion. So tomorrow we will try to fix this problem. I want to be early for at least one check point.

By the way the driver made it onto the Hemmings Motor News web site with her adventures yesterday - check out http://blog.hemmings.com/index.php/category/great-race/. Annegret was getting gas for the car. So she took the key to unlock the gas cap, and promptly broke off the key in the lock. She still had the stem of the key but could not get the rest out. After a brief panic the problem was easily fixed, but she must have magical powers. And it would have been a great story, car runs great but we missed the start because we could not fill up. Since yesterday I am getting the gas all the time.

We also want to share a story about the warm welcome we receive where ever we stop. This afternoon the pit stop in Vandalia, IL was extra special. First we were escorted by the "Tin Lizzy Patrol" (see picture). The local Soroptimist club welcomed Annegret, a Soroptimist herself, warmly in their middle. These small towns really go all out when the Great Race comes to town.


Otherwise we are enjoying the rally, the people we meet in the various towns, and the countryside. Looking forward to another great day tomorrow, good night
Uli


Day 6


First the rain and now the heat. Today we passed a sign reading 96 degrees. And we are sitting in a car that throws off a ton more heat to boot. In other words, we are well toasted.

I thought Missouri was flat. Far from it, Annegret can tell you a story about keeping speed in the hill country. The road was up and down with twist and turns challenging the driver tremendously. To crown a great day, we managed our best score yet, 19 seconds. We are still suffering the "late disease", meaning we are late at every check point despite adjusting for the tires. Interestingly the majority of the field is suffering the same kind of errors, but no one has yet figured out how to consistently adjust for it. I guess tomorrow I just start a minute early and hope for the best.

Spirits are great. The car is running great aside from some vapor problems and we lost power steering. The belt snapped. So our master mechanic Dave has a bit of a night shift, but he does not mind. It is so much cooler at night.

Back again tomorrow, hopefully with a few more pictures. Apparently Annegret can't stay out of the photos of Hemmings Motor News. Check out their blog http://blog.hemmings.com/index.php/category/great-race/.

Uli


Day 7

The Sheriff and the local trapper greeted us in Fredonia Kansas. What a great welcome. We were asked whether we are on the run, since the police car of L & J Feeney (car #33) was chasing us into the finish. Luckily we got away in time for a great score of 25 seconds. Though we could have stayed much longer given the very warm and friendly welcome.
So we had a great score, however, not without some trouble along the way. Another car passing us came pretty close so we pulled over and stopped to get away from the situation; another opportunity to practice our hacking skills. We scored a 1 second on that leg and 1 second on the last leg despite nearly pushing car # 8 across the checkpoint - since we were out of sync we turned onto the road with the check point virtually simultaneously with car # 8. It was a loop and we were through the second time. It was a bit tense but the result was good.

But the best result, we solved our "late disease", with 3 legs scored as early. I finally figured out sufficient adjustment for the tires, Eureka. The car runs great. David is on top of things.

At last, a funny story from a fellow competitor. He apparently always has troubles reading the first instruction, i.e. how to get out of the hotel parking lot into the right direction. So in St. Louis he read the instructions looked at other cars and still ended up on I 70 East instead of West. Now anyone familiar with St. Louis, if you go east you cross the river and end up in Illinois, which is the wrong direction for the race. We go west. Not a good idea in rush hour either. He made the start with 30 seconds to spare after running slightly faster than the speed limit back on I 70 West as originally intended. Challenges are everywhere on this trip.

Off to a very long 450 mile day from Wichita to Pueblo, CO.
Hopefully it is not as hot tomorrow.

Good night
Uli
Day 8


The best day yet - a score of 13 and 2 aces
Annegret would claim it was a drivers day; very long stretches at 55 mph, with 2 legs over 2 hours. Great job Annegret!!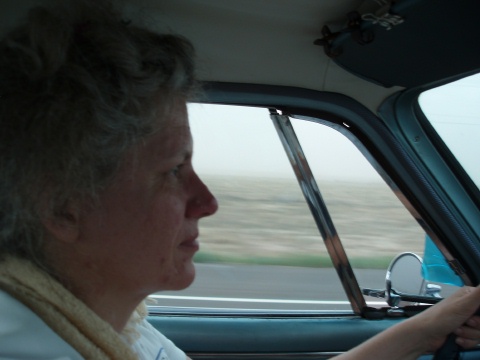 Again we had lovely stops in Dodge City, KS, Garden City, KS, and Lamar, CO. Please see the Boot Hill museum in Dodge City below.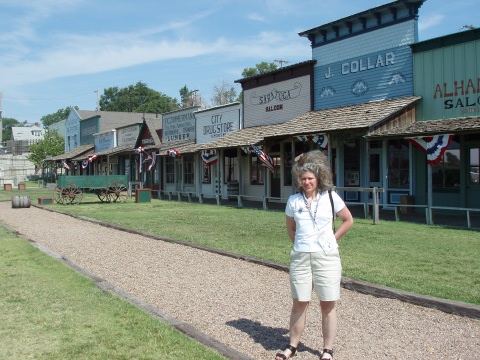 And we encountered a fierce storm on our way into Pueblo, CO. First is was a dust storm, followed by torrential rain. I am not sure whether the photos do it any justice, but it was a bit scary.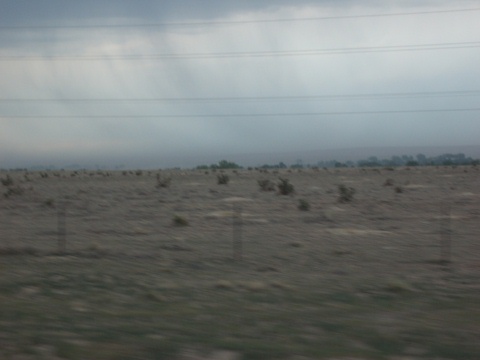 By the way this was at 5.00 p.m. in the afternoon.


So tomorrow we will try and lower the score again, although the elevation will make it difficult.
Wish us luck, Uli


Day 9 and Day 10

After a terrific day 9 - low gross score in the competition - we are having our deserved day off.

First things first, it was a great day yesterday. We scored 11 seconds, but just did not win the day because others with the same score have older cars. Older cars receive a handicap, i.e. the winner had a 0.66 factor for his 12 second score resulting in a net score of 8. We also have climbed to overall ladder significantly and are currently 13th. Based on low gross scores before factors we are overall 3rd. So things are coming together nicely.

We are going to tend to the car, laundry and just simply rest our minds.

Maybe I get to make some photos of the nice area around.

Uli


Day 11 - Stage 10



What a day, not so much remarkable in respect to the score, but outstanding in terms of the scenery. First we passed Shiprock and the day was topped off with a beautiful drive through Monument Valley. You can't really do better than that during a rally (without stopping).


The score was mediocre by our new standards - 25 seconds. Apparently we had a very bad calibration run that caused late scores. The only upside, a lot of other folks had similar problems. Now the endurance aspect of the rally comes in. We have the equipment to survive.

Talking about the car, the day off was used to install an electric fuel pump to remedy the vapor lock problems. It worked absolutely perfect today. A big thank you to David, who spent most of the day off below the car installing it.

So off to the longest day in the rally - the start is at 6.00 a.m. and rumor has it that we are going to travel 500 miles from Page, AZ to Tonopah, NV.

Good evening
Uli


Day 11 - no it was not the same day but Stage 11

This morning someone came up to me saying, Nevada is flat, right? Boy was he wrong. I lost count over the many mountain passes we cleared. It was somewhere around 10. And it was the longest day of the rally. We got up at 5.00 a.m. and were on the road by 6.00 a.m. We arrived at Tonopah at 6.00 p.m. after a hot and very strenuous day.

We had a fun stop in Rachel Nevada along the Extraterrestrial Highway. This is a VERY small place in the proverbial middle of nowhere. All the 50 inhabitants showed up. Kudos for those folks pulling out all the stops for the Great Race and to organize a pit stop. By the way one could have missed the hamlet because the road was dead straight in between two mountain passes, similar to the one below.
David also had a little adventure. He left very early in the morning, I guess around 4.00 a.m. But the truck over heated and he had an involuntary break in the same hamlet, Rachel, NV.
Unfortunately the race caught up with him and he had to stay until the last car passed through.
One racer was really lucky. The sweep truck was already full but David was able to load them up. So a long day ends in the mining town of Tonopah, which also hosted the first Great Race 1908. They unveiled a very nice mural documenting this occasion.


Lastly, we actually had a good score to boot - 17 seconds. The car runs great and we are headed to California. I can already smell the ocean.
Good night
Uli
Day 12 - the first day of the championship run

We had a fun day crossing the Sierra Nevada.


The Championship Run is supposed to be challenging. That it was and more. There were great roads, beautiful vistas, but also very challenging driving conditions. Compliments to the driver to keep it together.

We also ran into a construction zone. It was curious, they did not really work, they just held up the cars for a while. It caused a great mess with people really not sure how to calculate the time loss.

All this was followed by a very nice road down into Placerville, CA. Boy was that windy, but Annegret managed to keep the car on the road and on speed.

Talking about Placerville, this was clearly the best host city for and overnight stop. They put in a tremendous effort, and most importantly, the town was packed with folks wanting to see the cars and the Great Race. Great job!

I suspect that we are going to visit the fields of the Central Valley in California. They make such good rallying courses with plenty of stop signs, turns, loops and opportunities to get lost.

By the way we had a score of 22 very respectable, and we moved up the ranking from 18th to 16th overall. It will clearly need a better score tomorrow to crack the top 10. Wish us luck.

Uli


Day 13 - the dreaded 13

What a day. It was generally a great day, but we also had a "screw loose" (a German saying). It was very challenging, but we were up to the task. We stayed on course and executed every instruction very well. If it weren't for that tiny 5 ct screw that literally came loose.

We lost the ground for the power supply to our speedometer for a split second. We actually did not notice it. The way this instrument works is that it automatically reboots when it looses power, even only for a second. And the speedo assumes that the needle is correctly at zero when it reboots. But that is hardly ever the case when you are driving. Hence we were reading off the completely wrong speed and lost a lot of time. Another race car passing us could have been a hint. But you really do not want to rely on other folks as long as you do not know how they well they rally. This car actually did not follow the instructions very well.

So we stuck with our time and score a miserable 2 minutes 22 seconds, most of which was due to the last leg being close to 2 minutes late.

I guess we can continue to dream about top ten, but it might also snow tomorrow in the Bay Area.

So we are going to enjoy the last day, rally as well as we have the last few days, and have fun. Maybe I even find a minute to make some more photos, sorry none today. But I assume you really would not care too much about the rice fields, orchards and farms we passed today. And driving through the pot holes would make picture taking difficult.

Until tomorrow the last day of this adventure.
Uli
Day 14 - would have, could have, should have - if only



A great last day! We came in 7th, but that was not good enough to improve our overall standing of 33rd. We also had 2 aces bringing the count to a total of 5 aces - great driving. The car made it thanks to Dave the master mechanic. It drove great, we just ignored all the new rattles and aches.

This morning we went around the Infineon Race Course in Sonoma. Not that you get any wrong idea, we did not race. It was a timed section going anything from a lighting fast 20 mph to a respectable 10 mph.

Later in the day we went by a farm where the cows decided to cross the road. Studebaker had to wait; cows win this contest any time. At least we did not hit the cows like a fellow racer out in the open range in Nevada.

Here is a last photo of the relieved driver. She made it, did not drive off the road, although there were a few close calls. The navigator had a bad hair day, or there was no one for taking a photo.
Now to the overall finish and would have, could have, should have. Assuming we score a normal last leg yesterday without speedometer problems we would have had an overall score of 3 minutes and 43 seconds, good for 12th place. Instead we have a score of 5 minutes and 20 seconds and are 33rd. What do you say to this - a great learning experience, i.e. we know how to do this but we just need a little more experience in the unexpected situations.

It was a great trip. We had lots of fun. Most importantly we met a lot of nice folks along the way in the various cities we stopped and other participants (too many to list but we got your card / number). We will cherish these memories and we will try again.

There is always next year.


So long from Annegret and Uli