Welcome to Classic Cars & Racing. We offer the following full service options for your classic car:

Transportation
Professional transportation by CC & R of your precious collectible car to events like the Barrett-Jackson in Scottsdale or the Concourse at Pebble Beach. You name the event and we will deliver or pick up your car.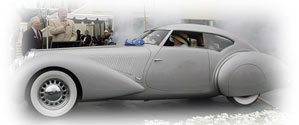 Mechanical Support
CC & R offers mechanical support for your classic car. Interested in selling your car, or buying a collectible? We offer mechanical on site inspections. We will service your car and get it ready for the auction. This service coupled with our ability to transport your car provides you the full service coverage needed.
Mobile Repair Shop
Rent CC & R's mobile shop. We also provide the services of our master mechanic on site. Major repairs can be performed on site utilizing the built in lift of our trailer. CC & R provides all the necessary tools and mechanic support.
Classic Cars & Racing can help you with any transportation, service or repair needs for your classic car.

Join us for the Great Race in June 2006! Follow the CC&R Rally Team's progress with live updates here.